I could give you 101 reasons why you should have an SUV in your garage, but since you're probably about to rent one, then I'm sure you're also a big fan of this historic car segment. Today, rental cars have become a great choice for various reasons. While major rental car companies that allow towing, offer rental trucks, it has left this question in the heart of many; "can you tow with a rental SUV?"
Traditional car rental companies will not allow you to tow anything with their SUVs, save a truck. Although you could rent an SUV that had a tow hitch, buy a receiver hitch, and rent a camper, you would almost certainly be in violation of the rental agreement if you tow with their vehicles. Your best bet however is to use U-Haul or the Adventure Camper company's recommendations.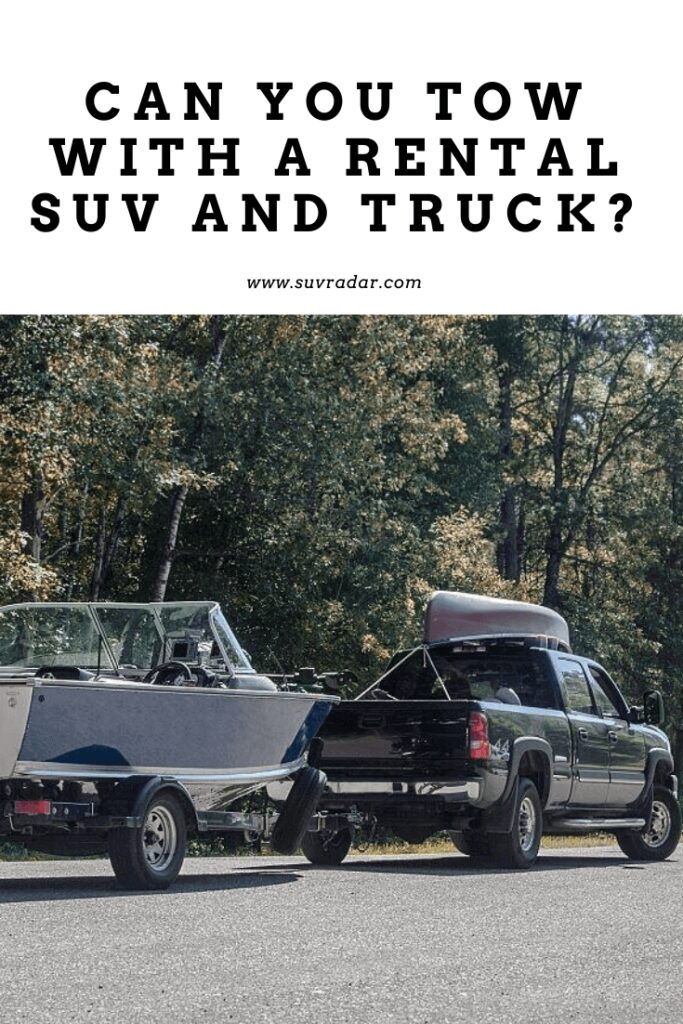 Frequently Asked Questions (FAQs)
Do Rental Cars Have Hitches?
Most rental cars are equipped with hitches and towing packages. In reality, a 2-inch hitch is just the right size you need to get towing. However, the challenge you may face is that the firm from which you are renting does not allow you to tow away from their vehicles.
Does Avis allow towing? We discovered that Avis, National, and Enterprise will not allow you to pull with their vehicles under any circumstances because it is against rental policy. There is one exception to this rule: these companies also provide Truck Rental. Based on their policies, you can tow with those trucks.
Does Enterprise have trailers?
As stated on Enterprise FAQ page, Enterprise Rent-A-Car locations do not allow a hitch or towing of any kind with the rental vehicle. Towing is only available on select pickup trucks.
Can You Tow With Hertz Rental?
Hertz recently changed their policy to enable towing. If you're renting from Hertz Penske, you can tow with their vehicles as long as the tow bar and package were installed by Hertz.
In either scenario, you must hire a trailer from the company rather than using your own equipment. If you break these restrictions and cause damage to the vehicle, you are accountable for it, and the consequences are severe.
Can You Tow With A U-Haul Pickup Truck?
With their pickup trucks, U-Haul permitted towing. They have a section on their website that will assist you in selecting the appropriate trailer and equipment for your needs, which you can hire directly from them. U-Haul is one of the organizations that will tow your personal belongings if you own your own container.
When renting a truck, it's highly recommended that you chat with a salesperson. Find out what the truck's towing capability is and make sure you don't go over it. We'll talk more about balance and weight further in this article so stay glued.
Will U-Haul Install My Hitch?
They most certainly will. Your hitch will be installed by most full-service U-Haul facilities. They have a large assortment of hitches and other towing accessories that can be installed on your vehicle. They'll even assist you in selecting the appropriate equipment for your vehicle. You can get more details on their official website.
Can You Rent A Truck To Tow A Fifth Wheel?
A truck can be rented to tow a fifth wheel. We discovered that nearly every facility that carries trucks large enough to carry a fifth wheel can and will provide a fifth-wheel hitch. If this is something you want to accomplish, make sure the company you're working with has trucks that can handle it in their inventory.
It's possible that they'll require more time to find and reserve a truck for you. Also, make sure your fifth wheel will be compatible with the hitch that comes with the rental truck.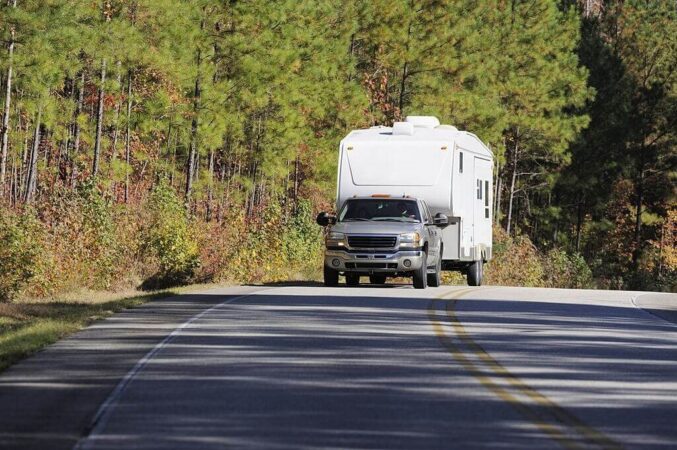 Towing 101: What you should know
What do you need for towing with a Rental
Before you call the rental company, take a moment to sit down and consider exactly what you need to tow. It's usually a good idea to double-check that you know what kind of equipment you'll need. While thinking about how far you'll have to pull, consider your level of experience and make a list of any specialist equipment you might require.
After putting together your list, contact the rental company and have a conversation with them, providing them with all of the information you've gathered. Ask them any questions bothering you, and inquire about any special equipment they may have to make your Towing experience a good one.
It may excite you to know that you're also borrowing the equipment when you go through a rental company and so you are not required to pay for it.
Basics Tips for Towing
Towing isn't a difficult thing to do, but it can prove so if you're doing it for the first time. If you're already familiar with towing, most of this will serve as a refresher. If you're new to towing, then here are some essential tips to put in mind.
If you have any questions or are unsure about any part of this, we recommend seeking the support of a friend or coworker, especially if you know someone who is knowledgeable with towing.
When towing, following these procedures will assist you grasp all that is going on.
Make sure all of your equipment is in working order.
Get used to hooking your trailer.
Practice trailer: backing
Make sure your tires are in good condition.
Take a few broad bends.
Make use of your mirrors.
Watch your weight.
Secure the trailer
Check the lights
Make sure your vehicle is capable of towing.
Make brief journeys to get a feel for your vehicle.
Slow down when driving.
Give yourself space to stop
Towing may appear simple, but in the real sense, it is kinda risky. Here are some basic towing guidelines to follow if you're not sure how to tow. These will not turn you into a master, but they will provide you with a solid basis. The same rules apply regardless of what you're towing, but they don't apply to rental trucks.
Factors to Considerations Before Towing
As previously said, there are various factors to consider before towing. The information below will assist you in determining whether or not your car is capable of towing the trailer you desire. This is crucial and can save you from making an expensive or dangerous error.
Tongue Weight
Tongue weight is one of the first and most crucial factors to consider. For individuals who are new to the fundamentals of towing. Tongue weight refers to the amount of pressure that the hitch exerts on your vehicle.
In simple terms, the more tongue weight you have, the more weight there is and the more weight there is in the front of the trailer. This is fantastic because it greatly improves the overall stability of the vehicle and trailer.
This section applies to all forms of towing. Except for using a box truck or the bed of a pickup. We will discuss that in the following article. Tongue weight applies to trailers that are hitched to a vehicle that is providing power and pulling them.
Payload
Payload refers to the total weight of a vehicle's occupants, their gear, and any cargo – if it is directly loaded into the vehicle. A perfect example is a motorcycle put into the back of a pickup truck. A vehicle put into a box truck is another excellent example of payload. Make sure you're not exceeding your vehicle's maximum weight limit.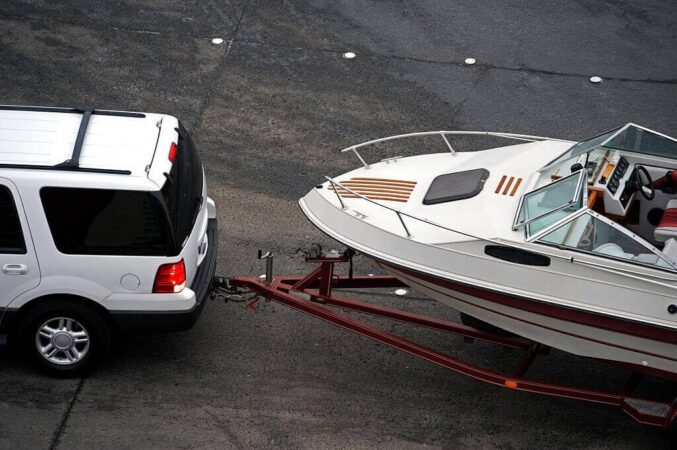 Final Words
As regards the question, can you tow a trailer with a rental SUV? It's worth mentioning that only a few rental car companies allow towing with their vehicles. If you've considered the factors we mentioned, your best bet for towing is to get a truck rental.
Towing limitations are the least restrictive with U-Haul, however, Budget Truck Rental, Enterprise Truck Rental, Penske Truck Rental, and U-Save Car & Truck Rental also allow it. See the list of rental car companies that allow towing.